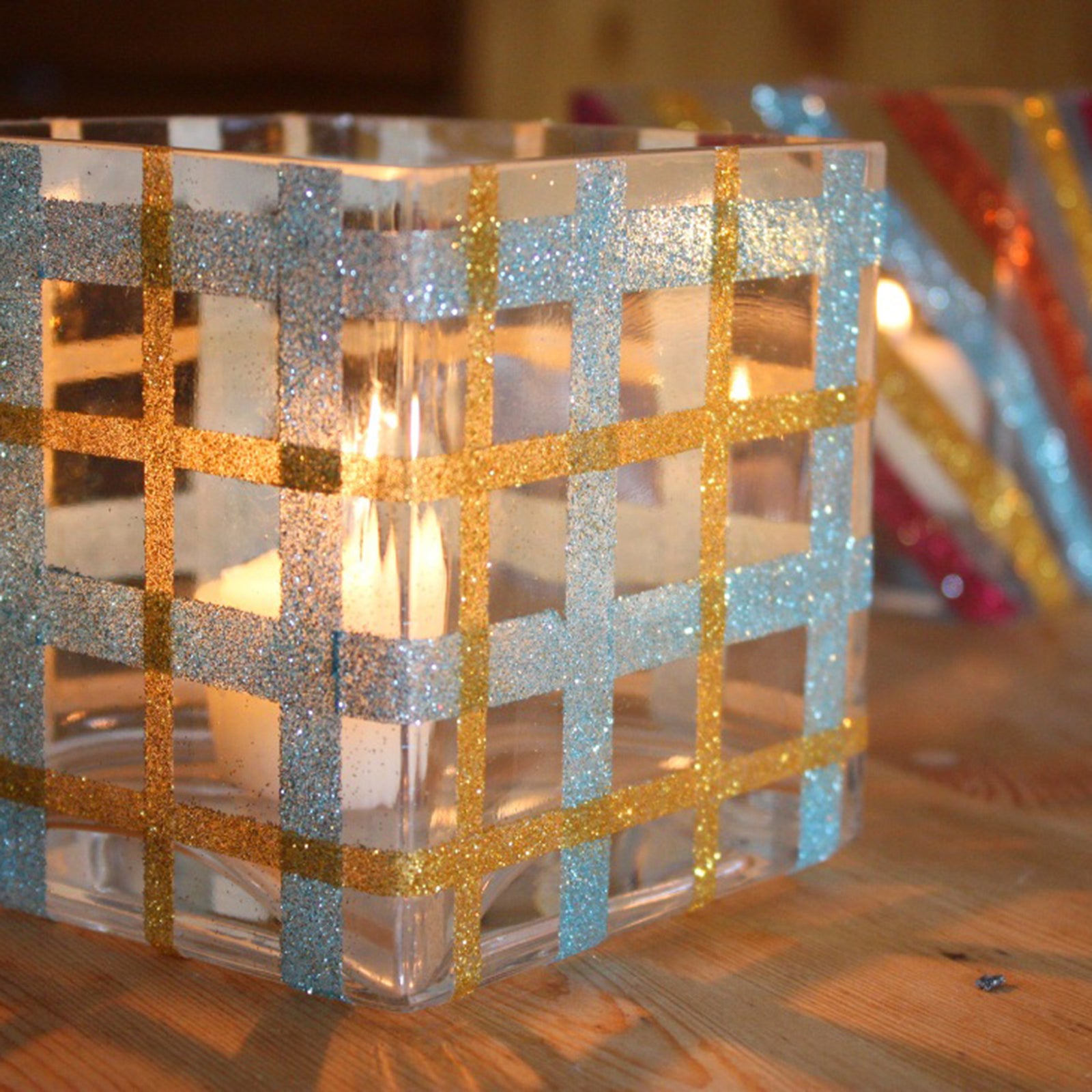 By this time of year I'm always itching for spring to arrive.  The days are starting to get longer, but it's still pretty wintery, gray and dark in our little corner of the world. Such a situation calls for glitter, clearly.  I wanted to make a pretty votive candle holder for my daughter, since she adds sparkle and light to my life every single day.  Here's what I came up with...
What you need:  
glass votives in any size or shape--jelly jars or wine glasses would probably work well too

double-sided tape--this should have paper on one side

fine glitter--the courser stuff might work too, but would probably not stick to the tape as well

scissors

dry paint brushes

drop cloth or sheet to cover your work surface

plain pieces of paper to collect excess glitter

clear varnish--optional
Start with clean, dry glass.  Plan out the design that you want beforehand. It's helpful to apply only one glitter color at a time, both for efficiency and so that the colors don't become blended.  Cut a strip of double sided tape and apply it to the glass (leaving the paper side attached).  Burnish with your fingernail to make sure that the tape is adhered properly.
Remove the paper backing from the tape and pour ample quantities of glitter onto the newly exposed sticky side of the tape.  You can pat it on with your finger or a dry paintbrush to make sure that it's well distributed and stuck on.
Shake off the excess glitter and brush lightly with a dry paintbrush to remove any extra that may be attached to the glass.
Repeat as needed with all the colors, shapes and patterns that your heart desires.  You could do more interesting variations than we attempted here by using shape blade scissors or shaped hole punches like the kind often used in scrap booking. One optional step (that I did not photograph for this tutorial) is to dab clear varnish over the glitter (but not on the glass) to protect it from being brushed off during normal handling.
I think I'll call these my "Welcome Back Spring" candles.  I love coming out of the dark of winter and back into the light.  Don't you?
---
2 comments
---
---