Moist & Tangy Huckleberry Muffins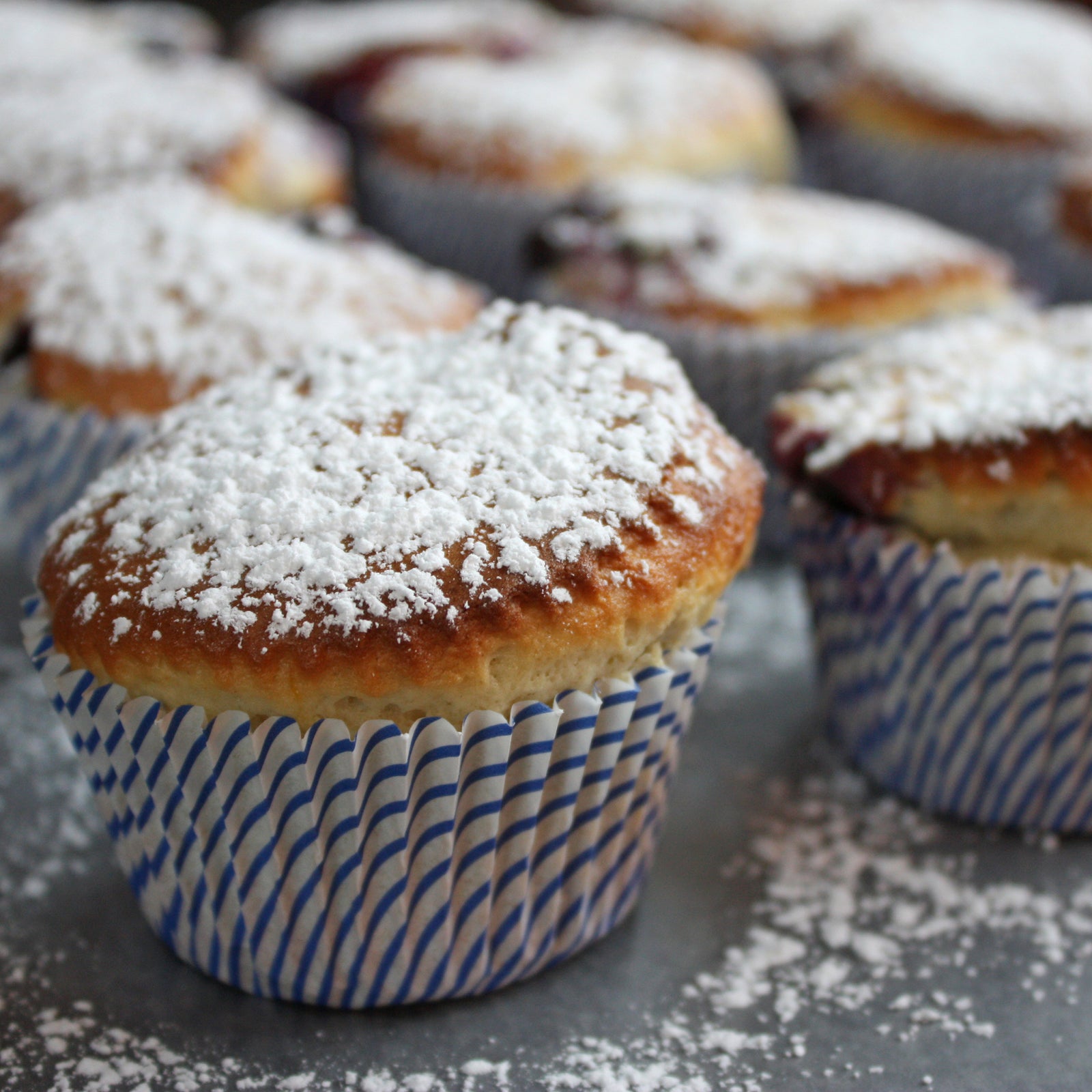 This post is about the best, most delicious huckleberry muffins I know, but first, I want to digress a bit...
Since I was a little kid, my favorite summer activity has been berry picking.  I love to pick the raspberries and strawberries that we grow ourselves, but even more, I love to pick the berries that nature leaves as a lovely summer bonus.  The Northwest has many wonderful blackberries, and wild strawberries are lovely too, but my favorite wild fruit is the western mountain huckleberry.  
Last summer, when we were visiting my family in north Idaho, we went to the ultimate, super-secret huckleberry patch, high in the Selkirk mountains.  We had the most glorious day.  We picked buckets full of berries and froze many of them.  Our spirits were high and our fingers were stained with purple juice.  And anybody who's familiar with huckleberry picking will notice from the photos what astonishingly huge berries we found.  They were almost as big as grapes.  Apparently the wet spring had made for plump fruit.
When the drizzly, gray days of winter in Seattle start getting to me, I use the frozen berries to whip up some huckleberry muffins and bring a little bit of summer back.
My favorite recipe uses either sour cream or buttermilk (or both), to moisten the batter and give it a little added richness, which I think compliments the berries perfectly:
Tangy Huckleberry Muffins
1 1/2 cups flour

2 teaspoons baking powder

1/4 teaspoon baking soda

1/2 teaspoon salt

1 large egg

3/4 cup sugar

1 tablespoon butter, melted

1 rounded cup sour cream and/or buttermilk

1 teaspoon vanilla extract

lemon zest

1 heaping cup of frozen huckleberries (or blueberries work too)
 Step #1: Preheat oven to 375 degrees. 
Step #2: In a large bowl, using a mixer, beat the egg at medium speed until it's frothy.  Add the sugar and melted butter and beat until pale yellow. Beat in the zest from 1 lemon, plus vanilla, salt, sour cream and/or buttermilk.  We usually have leftover sour cream and buttermilk hanging around in the fridge, so I use one or the other...or sometimes both sour cream and buttermilk mixed together. 
Step#3: Add the dry ingredients and beat at low speed until blended.
Step#4: Fold in the frozen huckleberries (or blueberries can be substituted).
Step #5: Fill the muffin tin with paper liners and add the batter.
Step #6: Bake for 25 minutes, or until a toothpick inserted into the center of a muffin comes out clean.
Step #7: Let muffin cool completely, then sprinkle liberally with powdered sugar.  Mmmmm good.
---