Easy Fabric Flowers Tutorial: Step-by-Step Guide to Make Fun DIY Flower Crafts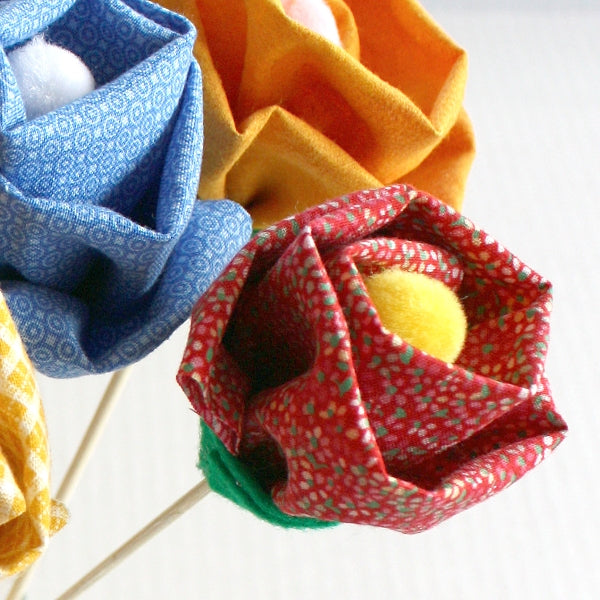 Spring has finally arrived in Seattle.  Thank heavens!  It's been the most miserably long stretch of wet, cold, windy weather I can remember for a long time.  In honor of Spring (and Mother's Day coming up next week), here's a tutorial for making some really cute and easy fabric flowers.
I have an absurd amount of leftover fabric from various unfinished and partially finished projects, and wanted to find a good use for it.  My mom also gave me her stash (drawer) of surplus shish kabob skewers, which totaled over 600.  We like grilling shish kabob, but it would take us years to use them up...so, voila!  Beautiful and festive fabric flowers for spring that fit nicely in a vase and are easily arranged in a bouquet.
You'll need:  colorful fabric (I used quilting cotton),  felt squares, pom poms, craft glue, wooden skewers, needle, regular or embroidery thread, hot glue & scented oil (optional).
Start by using craft glue to attach the pom poms to the sharp end of the wooden skewers.  I did this the night before the rest of the project, so that they had time to dry.  The hot glue would work fine too, but has a tendency to get stuck in places you don't really want and makes for a messier look, which is why I went with the craft glue instead.
Cut strips of fabric that are 4 inches wide and between 12 and 16 inches long.  The longer strips will make a fuller flower, so it really just depends on the look you're going for.
Fold over the fabric so that the "outside" is on the outside.  You can press it with an iron, if you want a sharp look, but I prefer a more puffy petal, so I left my fabric un-pressed.
Using your needle and thread (with a knot on the end) make an easy straight stitch along the rough edge of the fabric, catching both edges.  This stitch gets completely covered during the process of assembling the flower, so it really doesn't need to be too uniform or perfect.  This makes it a great project for kids because they can practice sewing a a straight stitch and make a beautiful gather, regardless of skill.  My 4 year old daughter had a blast making these with me!
Gather the fabric by pushing it down the thread and knot the other end of the thread, like this.
Cut a small Pac-Man shaped piece of felt fabric, grab your shish ka-pom-pom, and get ready to assemble the flower.
Place a small amount of hot glue at one end of the fabric, on or near the threaded gather.  Lay the pom pom end of the skewer on the hot glue and press the fabric around it to secure the skewer in place.  Then run a longer line of the hot glue along the threaded gather.
Begin to roll the "petals" of the flower around the skewer.  I applied a couple of inches of hot glue at a time, not the entire length of fabric, because I didn't want the glue to cool and harden before I had time to roll and pinch the fabric in place.
Secure the base of the flower bud while the glue is still warm and somewhat malleable.  You can do a little adjusting of the blossom shape at this point.
Now take your little Pac-Man piece of felt and apply a line of hot glue to the middle.  Then apply the felt to the bottom of the blossom, covering the rough edge.
Add more hot glue to the felt and wrap it all the way around the base of the blossom, holding it in place with your finger while the glue cools.
The final touch is to add 3-4 drops of scented oil (essential oil or fragrance oil) to the pom pom.  The flowers will smell wonderful, won't wilt and will brighten even the darkest corner...or dreary Seattle day.
Seattle Sundries is dedicated to promoting creativity and sustainability, values that resonate with our creative readers. Our collection of all-natural soaps, lotions, and lip balms complements these homemade projects, making them perfect gifts for individuals who appreciate craftsmanship and eco-consciousness. By repurposing materials, you can bring a touch of uniqueness and charm to your surroundings while reducing waste. Explore our website at www.seattlesundries.com to discover more products that align with our values and support your creative endeavors. 
---
2 comments
---
---